We are happy to announce improved features that you will love on the PayCentre application. These features are focused on the safety of your money and help use your PayCentre application easily.   
Here they are: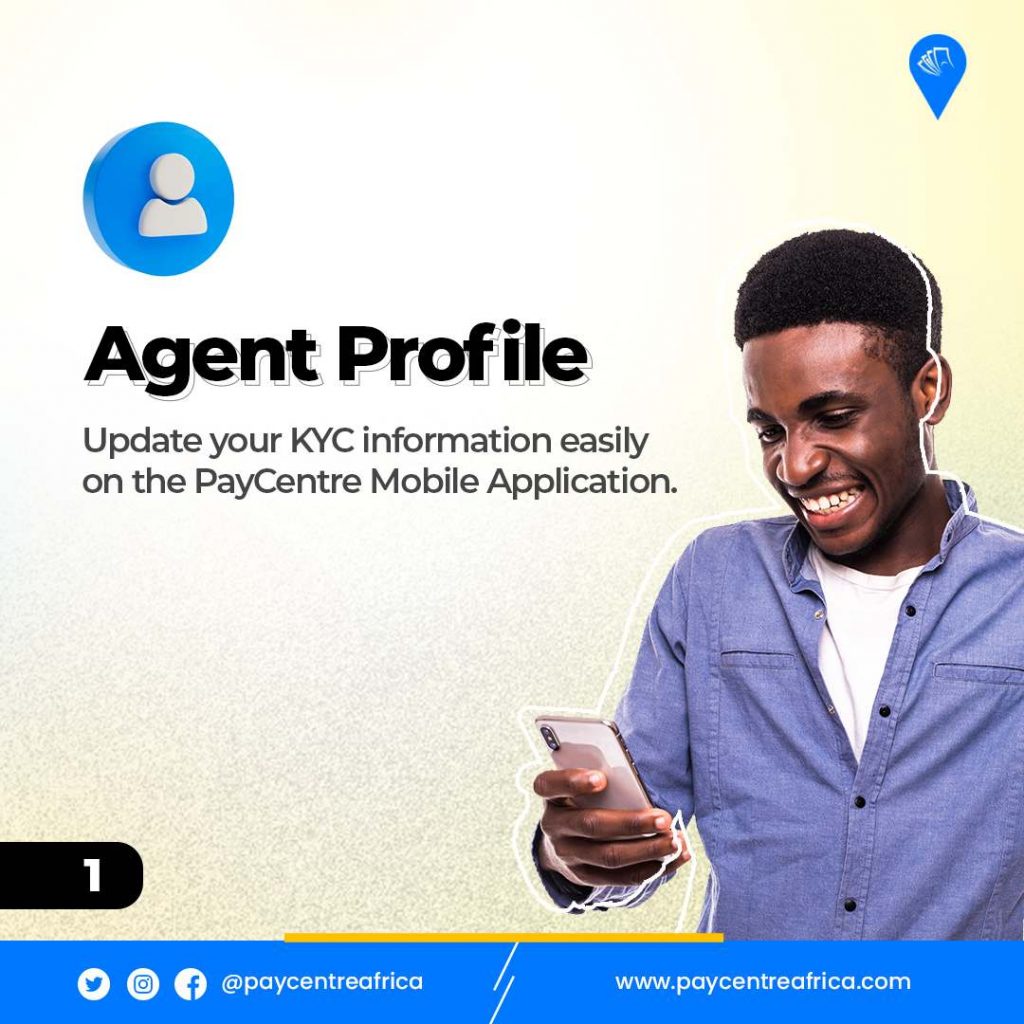 Agent Profile
Want to update your KYC information as an agent on PayCentre? Thanks to PayCentre, you can now provide your NIN, NIN slip, passport photograph, next of kin details, and WhatsApp number amongst others easily on your mobile app. To update your KYC information on the PayCentre Mobile app, simply follow these steps: 
Update your PayCentre Application on the Google Play Store.
Log into your App and go to the three-dash at the top left of your screen.
Tap on 'AGENT PROFILE' and enter the necessary details required.
Once you have successfully entered your details, click on 'UPDATE'.
Remember your KYC information and documents are a requirement for your PayCentre account and Micro pension registration. Ensure your information is accurate and up to date. 
SLS Account Visibility
You can now easily see and share your SLS account number with agents, customers, friends, or family whenever you need them to send money to your PayCentre account. Here's how to find and share your SLS account details with ease: 
Update your PayCentre Application on the Google Play Store.
Log into your App and go to the three-dash at the top left of your screen.
Your SLS account details are located below your PayCentre agent details.
However, to copy and share your SLS account number, simply
Go to 'FUND MY ACCOUNT'. 
Select 'Bank Transfer' to see your SLS account details.
Click on 'Copy' to fund your account from your bank or share it with family and friends.
Transaction PIN on Bills Payment
Remember the PC transaction PIN created to allow only you or your authorized staff to carry out funds transfer transactions on your PC Application? Guess what? You can now also use the same for bill payment transactions on your application. Are you hearing about the PC transaction PIN for the first time? It is a 5-digit PIN of your choosing. Once you have successfully set up your transaction PIN on your PC application, you will need to input this PIN correctly before you can proceed with carrying out funds transfer transactions and bill payment transactions.  
Please note that this PIN is only required for transactions that require funds or money to leave your account.   
How to set up your Transaction PIN
Update your PayCentre application on the Google play store.
After updating your app, open it and go to "settings" then select 'Setup Transaction PIN'.
Enter your BVN, a 5-digit transaction PIN of your choice, and confirm by repeating the PIN in the tab created.  
Once you are done, click on Proceed, and you are good to go!  
Remember that your transaction PIN must not be revealed to any other person, pick a PIN that's hard to guess and one that you will always remember. If your PIN gets into the wrong hands, they may be able to access your PC account and steal your money.   
Fix In-app Notification Issue
We are aware that some of you do not receive in-app messages from us, and we're happy to inform you that it's time to say goodbye to this issue. All PayCentre agents can now receive every message sent in-app. Remember to update your application on Google Play Store to enjoy this feature.
Fix Duplicate Transaction Issue
Are you a TPOS user and have been getting duplicate transaction issues on PayCentre? We are pleased to announce an update fix to help you resolve this issue when pushed to your device. Remember to visit any PayCentre office closest to update your TPOS device and enjoy this feature.
You can also read more on our blog:
For more information, follow us @paycentreafrica on Facebook, Instagram, and Twitter. You can also reach our support team for help via 09087792971 or send us a message on WhatsApp at 07036918616.