Are you a newly registered PayCentre agent in need of an activation code to sign in to the application or have you recently changed your phone or re-installed the PayCentre app and need an activation code? but couldn't? Getting your PayCentre activation code is very easy, simply follow the steps outlined below. 
On Mobile Phone;
Visit the PayCentre Africa website
Open your browser, and go to m.paycentrefrica.com
Login to your account
On the page that is opened, click on 'log in' to enter your username (registered phone number) and password which is not less than 8 characters.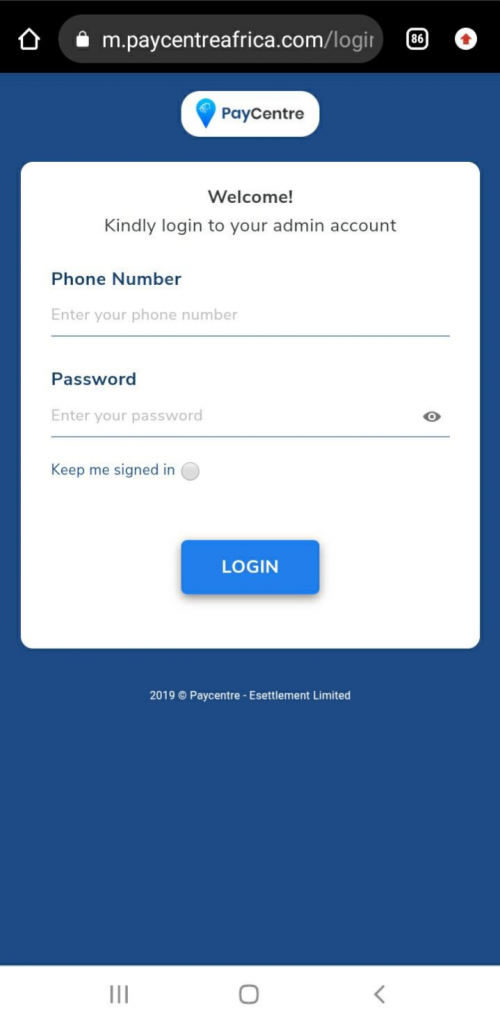 Go to the menu from the dashboard.
Once you're logged in successfully, your dashboard opens. Tap on the menu which is the three bars at the top left corner of your screen.
Click on the activation code
From the menu options, click on the activation code and your activation will be generated for you. Copy the code and go paste it into your PayCentre Application.
On Laptop
Go to www.paycentreafrica.com
Click on 'log in' and login enter your username (registered phone number) and password (6 digits).
Click on the account.
Copy your agent code.
Once you click on account, you will find your agent code next to your details at the far right. It is an 8-digit number on a blue tab.
You can also watch the video here.
Please note that you can only get the activation code if you are a registered PayCentre agent and have gotten your agent kit.  Want to become a paycentre agent? Visit https://signup.paycentreafrica.com/ to register and get started. 
Did you find this useful? Share with other PayCentre Agents that you know.