Dear Partner, It's the season to be joyous and we want to celebrate it with you in a special way. Starting from next week Dec 20th till Christmas, Dec 25th, you will win something with PayCentre, every day.
Here are the mouth-watering packages:
PC Father Cash-back
Father cash-back is in the building and is ready to give you something amazing. All you have to do is carry out 25 successful transactions and your 26th transaction will be totally free! This means you can have as many free transactions as possible next week.
Every active PayCentre agent can enjoy huge with PC father cash-back 😉. This offer starts on the 20th and ends on the 25th of December 2021.
PC Santa Gift
PC Santa has 6 hampers filled with so much goodies (containing 2kg bag of rice, 1ltr of groundnut oil, refilled beverages, cornflakes, a packet of cabin, medium tin tomato paste, a packet of Maggi, and two packets of spaghetti) for 6 agents.
To be a lucky hamper winner, simply carry out the highest number of transactions in a day. From the 20th – 25th of December, the agent with the highest transactions for each day will win.
Answer and win
We have 20,000 Naira worth of airtime for 10 amazing winners on the 24th of December! To qualify for our 'answer and win' package;
Like our posts
Be the first to answer all the questions correctly &
You will be contacted if you are a winner.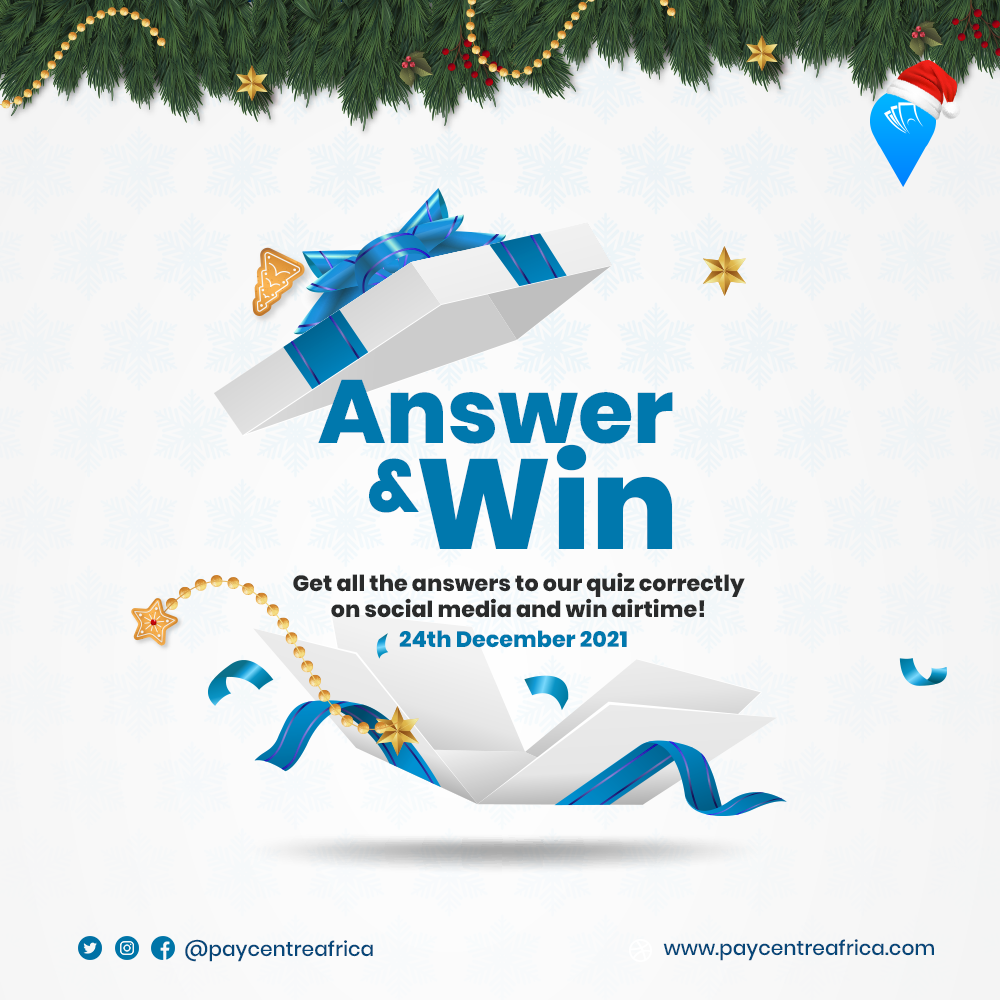 To qualify make sure to follow all the rules above and you will win big. Do not forget that the PC Mega Christmas promo runs from the 20th to the 25th of December 2021.
TERMS AND CONDITIONS
All PayCentre agents are eligible for the PC Christmas Mega Giveaway.  
Father cash-back and PC hamper begin at midnight and end at 11:59 pm daily.  
Social media answer and win begin at 12 noon and end at 6 pm on Friday, 24th December 2021.
Not a PayCentre agent yet? Visit https://www.paycentreafrica.com/contact to register at any of our offices closest to you, and enjoy this exciting promo! 
For more information, follow us @paycentreafrica on Facebook and Instagram. You can also reach our support team for help via 09087792971 or send us a message on WhatsApp 07036918616.